Getting Started with the
Table Functions
of .NET libraries
finaquant® protos
(non-commercial) or
finaquant® calcs
(commercial)
Audience:
C#/.NET developers (beginners included)
Following examples can be found and executed in the Microsoft Visual Studio file
FinaquantCalcsStarter
with demo functions for training.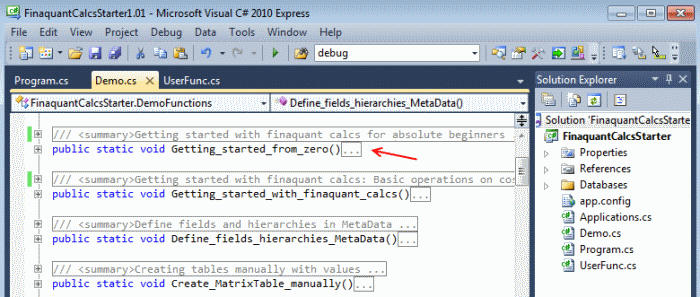 Define all fields centrally in MetaData
Fields of all tables must be first defined centrally in a
MetaData
object.
Create Cost and Margin tables manually for the examples below
Before creating a table of type MatrixTable (which can be converted to DataTable of .NET) its fields must be defined.
Note that the order of fields in a MatrixTable is important. Fields must be defined and assigned in this order:
TextAttribute, IntegerAttribute, DateAttribute, KeyFigure
Example 1: View cost and margin tables with table viewer

Example 2: Round all numbers (key figures) in table
In this example we have two table functions:
1) table-scalar multiplication (CostTable * 1.3333)
2) Round all key figures (MatrixTable.Round)

Example 3: Obtain price table with MarginTable1
This is a classical example for table multiplication. Note that (MarginTable1 + 1) is table-scalar addition; 1 is added to all key figures of MarginTable1
In this example, price margins are determined by
category
only as given in MarginTable1 above.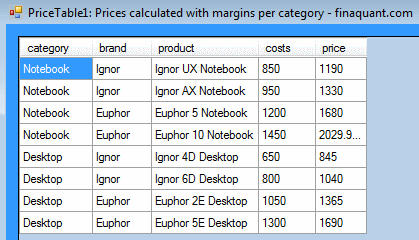 Example 3: Obtain price table with MarginTable2
In this example, price margins are determined by
category
and
brand
as given in MarginTable2 above.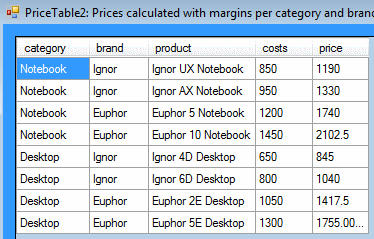 In the examples above, the cost table has only three attributes; category, brand and product. The table functions above wouldn't change even if cost table had 12 attributes and margin tables had 10 of them; all the statements would still be valid.
The only condition that must be satisfied for the table multiplication is this: The attributes of the second table (MarginTable in our case) must be a subset of the attributes of the first table (CostTable). In other words, attributes of the second table must be contained by the attributes of the second table.
The beauty of table functions is in their generality; they can be applied to (almost) any table with any field structure. Once you get used to the generality of table functions, you start to think more about the analytical operation itself rather than the field structure of individual tables.
An analogy: Two matrices of any size can be multiplied (matrix multiplication) provided only that column-count of the first matrix is equal to row-count of second matrix.