Following steps illustrate how to add a new
table valued function
(of the .net library
Finaquant Calcs
) named
Combinate Rows
to the excel add-in
Finaquant in Excel
(see Visual Studio project among downloads in this page).
Combinate Rows:
Cartesian Multiplication of table rows: Generate a new table with all possible row combinations of input tables.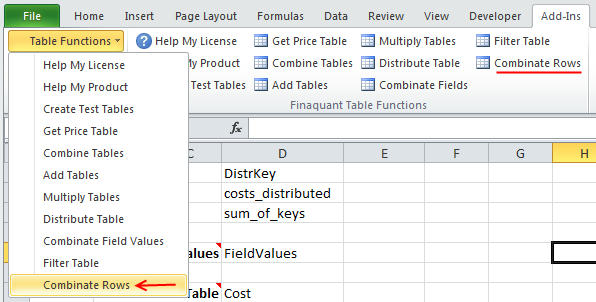 Step 1:
Add a non-static method named
CombinateRows
to class
ExcelTable
Step 2:
Add a parameter-less non-static method named
CombinateRows_macro
to class
ExcelTable
The two methods above can be called in a Excel VBA, as explained in the visual
User Guide
.
In order to add the new table function to the command menu named Table Functions we need to add a static method to the class ExcelTableDNA with proper attributes.
Step 3:
Add a static method named
CombinateRows_macro
to class
ExcelTableDNA
Now, the new table function should appear in the command menu. If you also want to have a command button in the ribbon, you need to add a new button element (XML) to the DNA file:
Step 4:
Add a new button element (XML) to the DNA file in folder bin/Release of the Visual Studio project: