ILNumerics
is a .NET library for math including functions for statistics, machine learning and data visualization.
ILNumerics doesn't have the
Table Functions
of finaquant libraries
finaquant® protos
(non-commercial) or
finaquant® calcs
(commercial, and finaquant libraries don't have many functions of ILNumerics.
So it makes sense to combine finaquant with ILNumerics if you need Table Functions, plus many other matrix/vector functions of ILNumerics that are not included in finaquant libraries.
You may find below some C#/.NET code examples that illustrate:
How to convert an ILNumerics matrix to a finaquant matrix, and vice versa
How to write extend matrix functions of finaquant using methods in ILNumerics
It is quite easy to install ILNumerics with its NuGet package into a Visual Studio file (see
Quick Start
). Additionally, you will need two assembly references,
FinaquantCalcs
and
CryptoLicensing
for finaquant® calcs.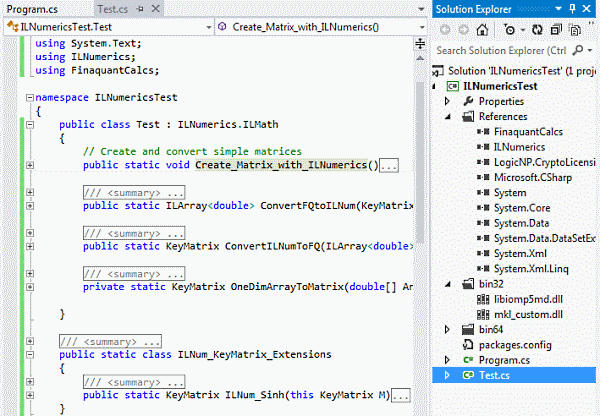 Converting matrices from ILNumerics to Finaquant, and vice versa
Conversion methods:
Writing an extension method for finaquant's KeyMatrix type
Calling the extension method: