You can download the Visual Studio (2012) file for running the report explained here at:
Downloads for C#/.NET Developers

This simple report demonstrates:
How to create a simple report with ReportViewer
How to add parameters to a report (@Dealer in SQL filter of DataSet)
How to bind a DataSet to a report as data source programmatically (dynamic binding)
How to export a report to a PDF/WORD file programmatically (without preview)
How to send an Email with (PDF/WORD) attachment from an SMTP email account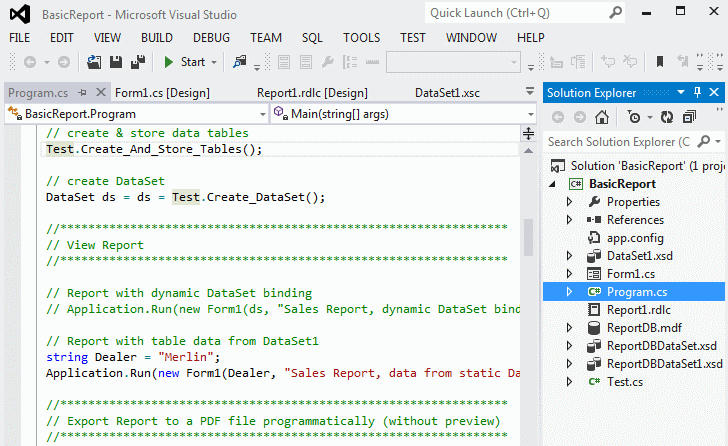 Useful links for common tasks:
How to run the report?
First, download and install
finaquant® calcs
(.NET Calculation Engine based on Table Functions) which comes with 30-day free trial period. You will need this library for creating and storing test data.
Open the Visual Studio project named
BasicReport
and press F5.
You have two options for viewing the simple report: Dynamic and Static data source binding. By commenting one, and commenting out the other you can try both in sequence.
Following method creates the test tables (sales, costs, margin1 and margin2) and stores them in the database named
ReportDB.mdf
(server based database). You can comment this statement out to save processor time once you have generated and stored the test tables as basis for reporting.
For sending an email with the report as PDF/WORD attachment you need to enter your SMTP email account information in the code file
Program.cs
:
How to add parameters to a report
1) Double click on DataSet1.xsd in
Solution Explorer
to get the Design View
2) Select from right-mouse menu: Configure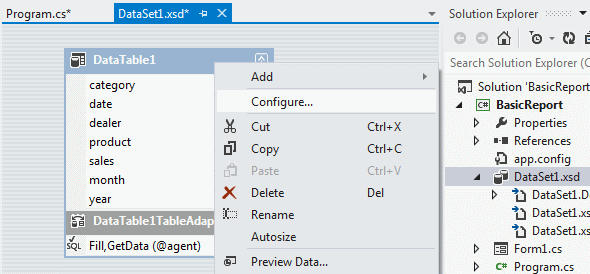 3) Add a parameter (@agent) as filtering criterion to SQL statement of TableAdapter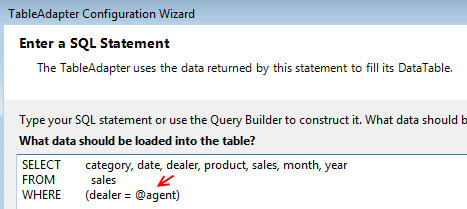 4) Add a text box control (textBox1) to
Form1
for the parameter
dealer
(@agent in SQL)

5) Extend the methods in Form1.cs ..
.. so that the report can be called with the parameter
dealer
as follows:
How to assign a DataSet to report programmatically? (dynamic data source binding)
Extend the methods in Form1.cs ..
.. so that the report can be called as follows:
How to export report to a pdf or word file?
Here is the C#/.NET code:
How to send a report file (pdf or word) as attachment to email?
Once you have created a report file as shown above, you can send it by email as attachment.